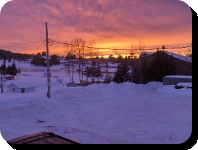 Rear Deck View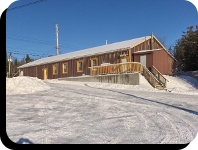 Lodge During Winter
Welcome to the Black Bear Lodge
of Old Forge, New York




Get the gang together and share this knotty pine pleasure. A recently remodeled Adirondack Lodge, former night club and restaurant, is now a 4 bedroom, 2 bath, 3400 square foot snowmobile Country Club for 12 guests.

The Lodge is an ole renovated night club located in downtown Old Forge across the street from Water Safari's Calypso Cove on the road leading down to the Old Forge Lake Cruises.The construction included four bedrooms, expanding the two bathrooms to include showers, create a new utility and laundry room, adding a fireplace to the bar/rec room, and creating a dining room. In addition, all the walls were finished with knotty pine with stone around the propane fireplace. There are numerous mounted bears, deer, moose and other game plus outdoor items adorn many of the walls giving the interior a rustic outdoor style.

The interior has five sofas or love seats and two futons, cable with two large screen TVs and TVs in each bedroom, two home theater systems, secured wireless internet, pool table and dart board, telephone availability and other amenities, giving the lodge a comfy feeling.

Enjoy your own bar with fridge, pool table, dart board, big screen TV with home theater system. No need to leave, unless you actually want to snowmobile! The fully equipped commercial kitchen is large enough to handle most groups and will further give you savings versus eating all your meals out while on your trip. The laundry and utility room will also give you an opportunity to stay at the lodge rather than using a public laundromat. Add in the convenience of the major snowmobile trail located just behind Water Safari and there is no need to transport your machines to the trails as there is plenty of available parking for all your vehicles and trailers.With all of the above features, the Black Bear Lodge is perfect for snowmobilers and skiers in the winter, and kayakers and rafters in the spring!

Finally, we are flexible enough to meet your rental needs. Your club or group can lease our Black Bear Lodge for the entire five month season, or smaller blocks of time all the way down to weekly periods or long weekends.

As a result, the Black Bear Lodge offers groups a chance to stay together comfortably and affordably in the Old Forge area this winter!